Guns & Guitars
Year

2018

Genre

Documentary

Status

Completed
Guns and Guitars track the journey of the director Bidyut back to his root – north-east India.
The 8 northeastern states connect with the rest of the country with a mere corridor of 21 km in breath at places, but shares more than 4500 km of international borders with 5 different countries Filmed as a travelogue, this musical quest brings to light the positive influence of music emanating from the youth living in this region, which is crippled by state and non state violence for the last half a century.
The journey finally culminates on the celebratory night of 24th May with Bob Dylan's birthday concert, organized by the legendary northeastern musician Lou Majaw for the 41st consecutive years, where all the 8 rock bands with whom we interacted earlier participate. With guitar in their hands and songs of life and hope on their lips, these youngsters are truly instrumental in changing the northeastern canvas of despair and anguish into one of hope and peace, much like how Bob Dylan operated in the America of 60s, torn by civil rights movements & Vietnam War …
Written & Directed by:  Bidyut Kotoky | Produced by : Bidyut Kotoky & Vivek Bansal
DOP: Satya Prakash Rath & Bedadyuti Dutta
Assiocate producers: Abhijit Sharma, Aftab Asghar & Nakul Kamte
Editing: Pallavi Kotoky | Sound: Nakul Kamte
Awards: 
Festival selections & awards –
Guns and Guitar was selected as one of the top 100 documentaries of 2016  by Color Tape International Film Festival – considered the largest festival of the Southern Hemisphere.
Additionally. the film has been part of the official selection of the following festivals so far
i) Newark International Film Festival date – September'16
ii) Great Lakes International Film Festival (USA) – Sept '16
iii) Prembroke Tapareli Arts & Film Festival (Los Angeles) – Nov '16
iv) Sanctuary Film Festival ( Gold Coast, Australia)  – Nov '16
v) Cutting Edge Film Festival (USA) – Nov '16
vi) Fragrance of Northeast film festival (Pune, India) – February' 17
vii) Tasveer South Asian film festival (USA) – Oct '17
viii)  River town film festival (USA) – Nov '17
ix)   Catoosa country film festival (USA)- Dec '17
x) South Asian International Docufest (USA) – April '18
Guns and Guitar has been chosen as an Official Selection of the Indian Panorama in the International Film Festival of India (Goa) 2016 – the top international festival of this country.
The film was also nominated for the best documentary & best director award in  Sutter Creek International Film Fest (USA) – Oct '17 & best documentary award in  Alhambra Theatre Film Fest (Indiana, US) ,April '17.
Another recognition for the film comes in the form of an award on the 'best music category' at the prestigious Finisterra Arrabida Film Art & Tourism Festival in Portugal.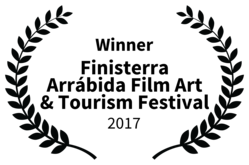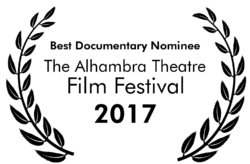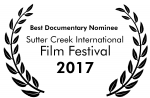 Technical Details:
Genre: Documentary
Runtime: 98 minutes
Language: English
Sound Mix: Stereo
Country: India
CBFC Certificate: U
For India & International sales contact: info@kahwaentertainment.com